History of the House
Nearly 150 years of history of our house and the land on which it sits. All the pdf documents will download when you click on the links.
Before 1877
1877
Frederick Eggar sells a chunk of land to James Cholmeley Russell. This may have been to pay off gambling debts.
See the Abstract of the Title for details of all 19th Century activities.
1905
Part of the land brought by Susan Sumpster plus a little bit of Manor Farm.
February 1907
Mortgage taken out by Susan and Bertha Sumpster to build Bridge House.
1911 Census
On the day of the census Arthur Urban Sumpster, Edgar William Sumpster and Rose Ellis (a maid) were living here. There is no mention of Susan because she was staying at a boarding house with Bertha in Southsea that day.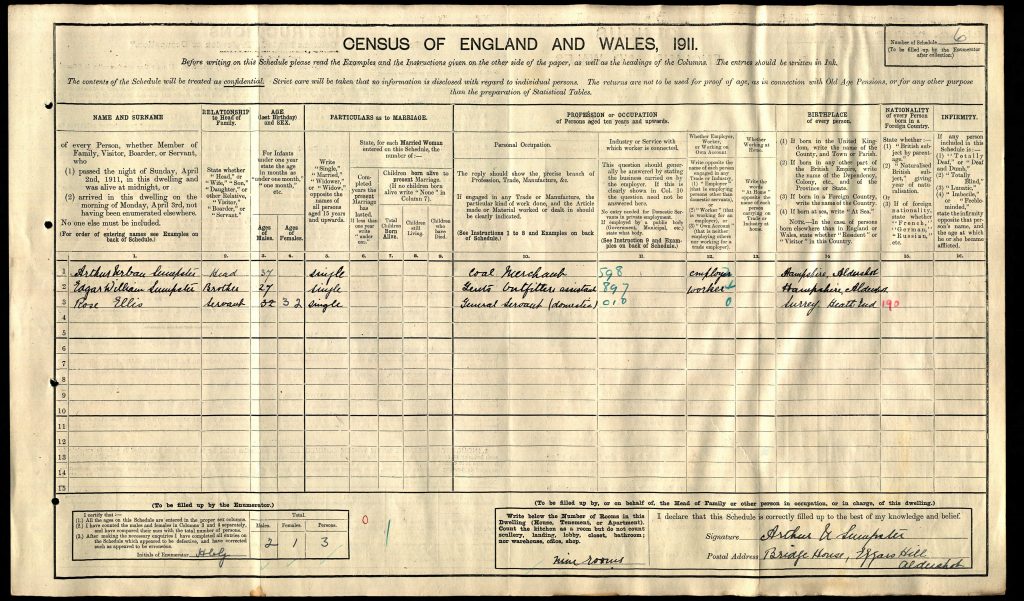 March 1914
Indenture between Edward Bull and Richard William Mason (the Trustees) and Susan Sumpster (the Purchaser) and James Chomley Russell and Amelia Gully to buy a strip of land to the north.
1921
Miss Bertha Sumpster sells the house to Richard Alexander Garrett.
PDF of the Conveyance | PDF of the Mortgage
1921 Census
6 people in the house on 24 April: Richard Garrett and his wife and son, a boarder and two visitors.
1926
Arthur Sumpster dies. He had moved up the hill to 29 Grosvenor Road after Bridge House was sold in 1921.
1956
Brought by Dennis William Saunders
1972
Dennis sells Bridge House to Kenneth and Colleen Ginsburg.
1975
Granny Flat conversion
1984/1985
Mr RK Freer and Miss CA Hillery buy the freehold.
1986
Request to convert into 5 flats rejected
1989
Request to convert the house into 6 flats rejected:
Request to convert into 4 flat accepted
1990/1991
Bridge House Management Company formed and leases issued.
2002
Freehold transferred?
2003
Paul and Maureen Beves buy the Bridge House
2012
We buy the freehold